Social Enterprise - Peacock
Greeting cards, souvenirs, and inclusive education materials made with the quilling technique
About the Social Enterprise:
The enterprise "Peacock", which is producing a variety of products using the quilling technique was found in 2014 in Kutaisi. Creativity is the main characteristic of the enterprise's team, which also explains why the products are always of bright colors and appealing to new designs.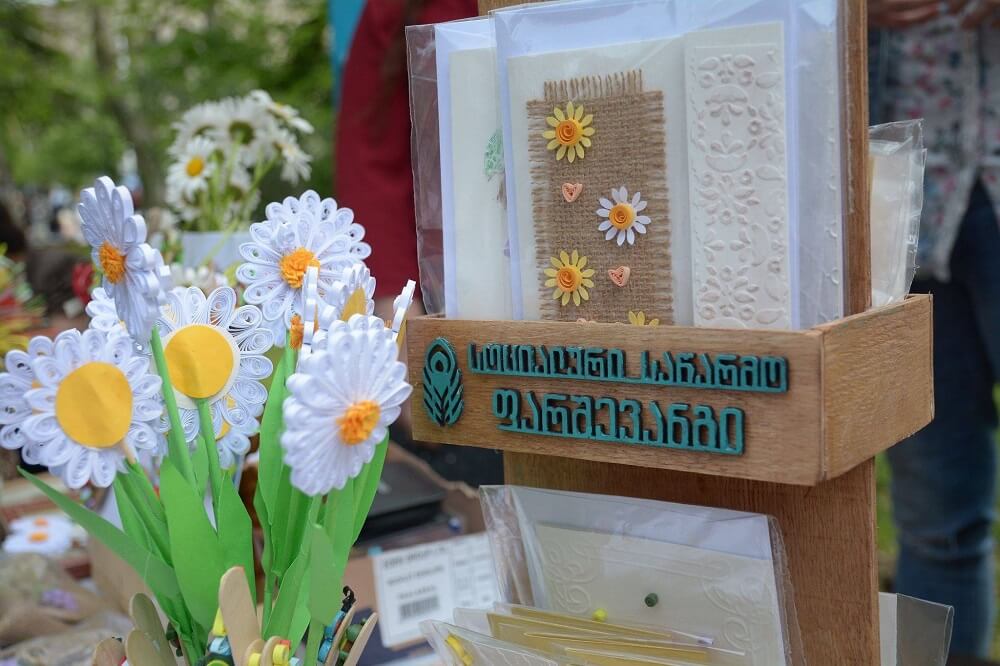 Mission of the Social Enterprise:
Supporting the socio-economic integration of people with disabilities and persons from socially vulnerable groups by creating jobs based on their individual needs and skills.
Products/Services of the Social Enterprise:
The enterprise offers customized products made with the quilling technique and supporting materials for inclusive education, in particular:
Greeting cards (related to New Year, Weddings, Children and other celebrations);
Present boxes and invitation cards;
Souvenirs;
Workbooks for inclusive education;
Social Impact:
The enterprise has 11 regular employees and hires up to 15 people at peak times.
Thanks to free-of-charge quilling courses, 59 people learned already how to make greeting cards and souvenirs.
Social Enterprise - Ialoni
Yard and garden services
About the Social Enterprise:
The social enterprise "Ialoni" was established in 2018 in the village of Saguramo. "Ialoni" offers yard and garden care services to the residents of Saguramo and nearby villages. The enterprise gives an opportunity for people with disabilities to receive professional training and employment. For a majority of our candidates, participating in the training programs and activities is their first vocational education and job experience. Being employed not only empowers their socio-economic situation but also contributes to the therapy process.
Mission of the Social Enterprise:
The enterprise aims to create opportunities for people with disabilities and supports the process of their self-realization. It also aims to improve their and their families' socio-economic conditions, as well as to eliminate the stigma and stereotypes enrooted in our society.
Products/Services of the Social Enterprise:
The enterprise offers a variety of customer-oriented services for a fair price. Individual service packages can be tailored and flexible payment is arranged.
Garden Services:
Taking care of yard and garden;
Installing, mowing and maintaining lawn
Cleaning, ploughing and digging soil;
Decorative cutting of bushes and trees;
Vineyard trimming;
Spraying plants with pesticide;
Planting and sowing;
Watering of plants, crops and fruit trees;
Fruit picking;
Cleaning and whitening leatherwood trees;
Plant packing.
 Cleaning Services:
 Cleaning the yard from leaves and leftovers;
 Chemical cleaning of the paved yard and terrace area;
 Firewood production and storage;
 Waste disposal;
 Clearing the yard from the snow.
 Social Impact:
The enterprise has four regular employees.
 A total of eight people with disabilities completed a full vocational training course.